Join Adsense Certified Ad Partner
"Ezoic is a must have automatic testing tool for serious publishers."
300% Increase
in earnings after using auto ad tester...
Read The Case Study
Most bloggers know most of the components of a solid lead generation Internet marketing campaign. Some bloggers know all of the components. Very few know how all of the components fit together.
Lead Generation Marketing
—
What you are going to learn about; New
B2B lead generation
strategies & tactics, a quick guide to using infographics for lead generation, Better infographics for intelligent lead generation and much more...
Join this very small group by studying the "
Internet Marketing Lead Generation Ecosystem
" infographic created by Straight North, a Baltimore SEO Agency. It displays all of the components of a lead generation campaign, and more importantly, how they fit together. Put all of the pieces in the right places, and you will surpass competitors in sales lead production.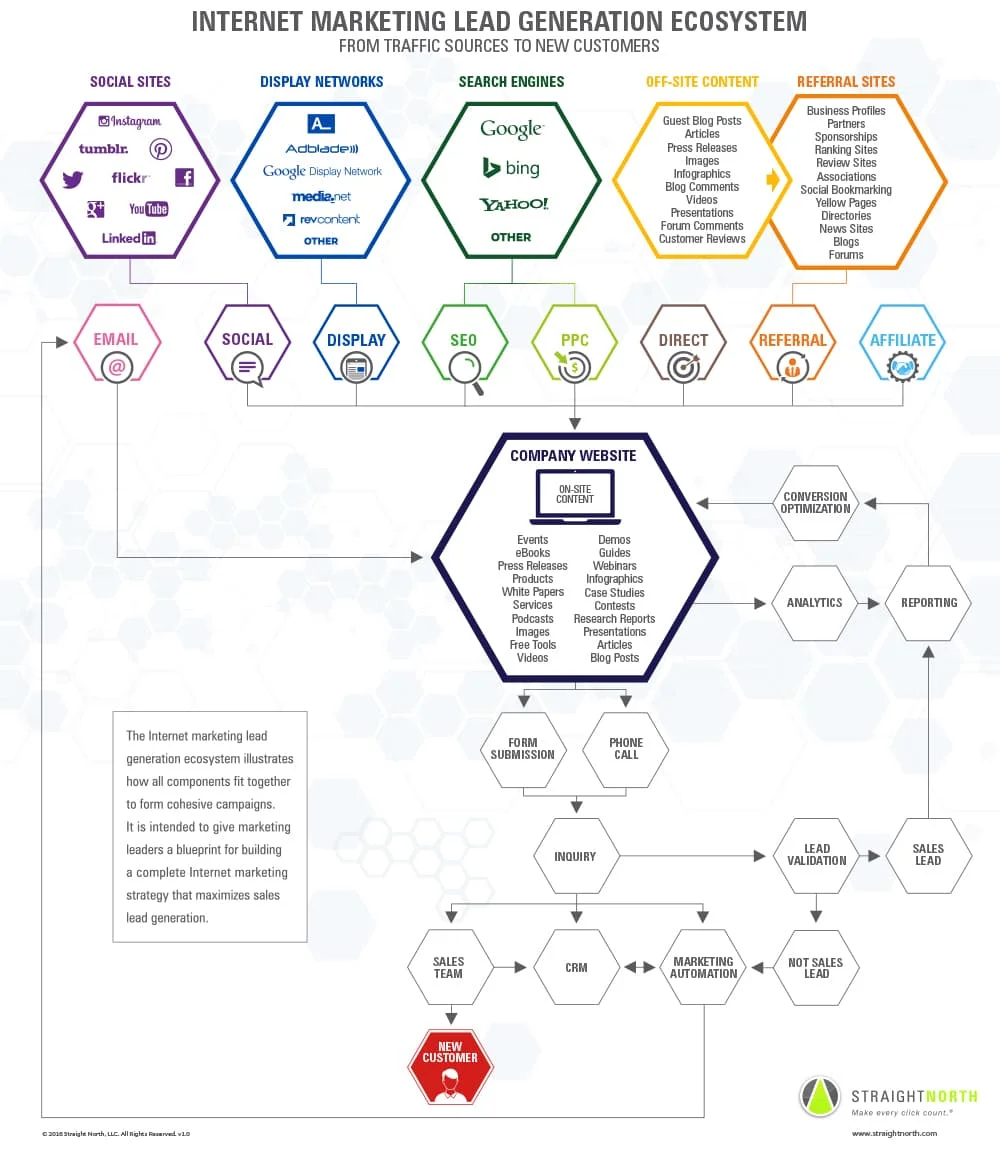 Last time we saw;
And today we are going to see the insights you need to develop a killer lead generation strategy today that will help you to increase, improve & centralize lead gen to outmaneuver your competitors.
3 Underused, Underappreciated Lead Generation Marketing Tips
Every blogger's lead generation marketing has strengths and weaknesses. Here are key tips to set you apart from the average blogger:
Don't focus only on social sites and guest blogging.
As the infographic shows, traffic can come from a number of online sources. Bloggers tend to spend a lot of time cultivating social media traffic, but perhaps not as much as they should on search engine traffic, referral sites, and display networks. SEO, PPC, display advertising and obtaining plugs on influential, high-traffic websites bring in lots of traffic from sources your competitors may be ignoring entirely. The challenge for bloggers is to
strategize SEO
, PPC and display campaigns that are aggressive enough to move the dial — and yet affordable. It can be done, however. Halfheartedly going through the motions only leads to wasted investment, so take the time to create a sustainable and affordable plan before diving into these very deep waters.
Track your phone inquiries.
Since Google Analytics and other website analytics packages don't support phone tracking, lots of bloggers have no idea why leads phone in — leaving them in the dark about which marketing efforts are working and should be more greatly emphasized. Solid
phone tracking
enables you to know the marketing source of every phone inquiry, allowing you to continually improve your campaign much more quickly and accurately than the norm. It takes a bit of development expertise to set up, but there are plenty of expert programmers in this area, and several outstanding phone-tracking packages to choose from.
Validate your sales leads.
Even less often done than phone tracking is lead validation, the process of reviewing phone and form inquiries to separate actual sales leads from non-leads. This is BIG. After two years of validating hundreds of thousands of inquiries for our own agency and clients, we've learned that about
half of all inquiries are not leads
.
If you are basing your marketing decisions on inquiries rather than validated leads, your judgment may be off by 50 percent! Errors of this magnitude slow down campaign improvements and lead to campaign changes that make campaigns worse.
Learn more about lead validation
.
If you initiate a sustainable, well-strategized campaign, track all of your form and phone leads granularly, and validate sales leads in your analytics and reporting, you will gain three significant advantages over the competition. Blogging with purpose — that is, blogging with the intent to generate leads — requires scores of other marketing techniques as well. If anything else is missing from your lead generation efforts, you will spot them in the infographic.